30 Years BT Experiences
Being the sole agent for BT Material Handling Equipment in Taiwan for more than 30 years, we build a complete service network served the most professional services.Not only selling lift trucks, but we also provide warehouse planning, racking system and warehouse-related products.
Leading European Brand
As the leading European brand for automated moving, we promote and introduce leading technologies and concepts. We are also the leader in the industry in providing leasing services and year-round services. This will provide peace of mind for customers through our service commitments.
Full Range of Services
We continue to introduce and provide all types of warehousing and logistics products and technologies. Our customers can have a large ion of choices and full range of services before and after sales. This will allow our customers to focus on their core know-how without having to be concerned about logistics, so that we can prosper and grow together.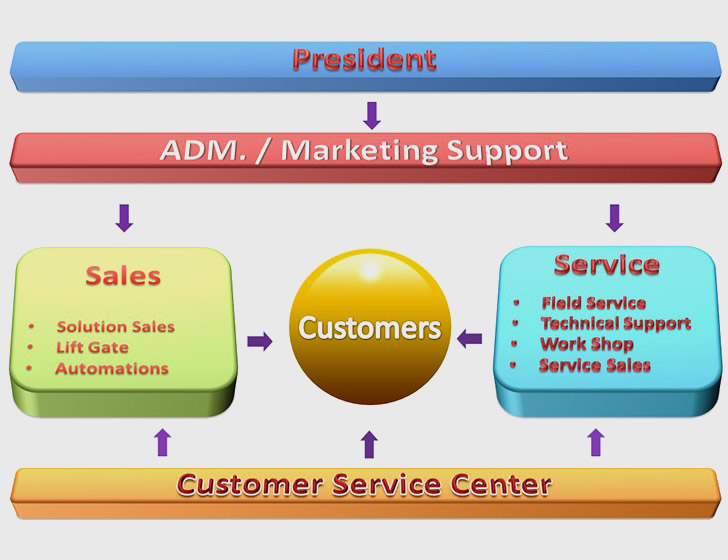 1980
The authorized sole agent for BT Sweden, the world's leading brand of internal material handling equipment, in Taiwan.
1982
Build up the after-sales service networks all over the country.
Planning and installation of warehouse.racking system begins
1983
The first high bay warehouse with VNA (Very Narrow Aisle) fork lift truck in Taiwan--FU SAN MACHINERY CO., LTD.
The first cantilever racking system with four way fork lift truck in Taiwan- FU SAN MACHINERY CO., LTD.
1987
More than 1,000 companies use BT lift trucks in Taiwan
1988
The first BT semi-automatic material handling system in Asia.- Tatung Co.
1989
The authorized sole agent for the German MBB, the world's leading brand of tail lift, in Taiwan
1991
The first BT AS/RS((Automatic Storage Retrieval System) warehouse system in Asia- Kuang Chuan Dairy Co., Ltd.
1993
Diversify service contracts, e.g. full service, custom-made service contract.
1995
The first LTW aisle-switching AS/RS system in Taiwan
The first Automated Guided Vehicle system in Taiwan- FORMOSA CHEMICALS & FIBRE CORPORATION
1998
Rental business for Material Handling equipment and clearing equipment begins
2001
The turn-key contract service of warehouse construction begins
2006
The first application of Laser guided vehicle in Agriculture-mushroom farmer
TWS collaborates with Tradevan to market the WMS system
2007
The VNA warehouse system of KRTC locomotive repair depot was completed
2008
The first Radio shuttle warehouse system in Taiwan
2010
TWS Brings the mini lift trucks with the smallest turning radius—Mariotti ( Made ins Italy)
The AGV system of Taiwan power company's third Nuclear Power Station was completed.
2017
Authorized agent for Modula Vertical Lift Modules & Automated Storage Solutions in Taiwan
Implement Modula VLM, goods-to -person picking solutions, to Food industry. Picking goods and batch number control at the same time, reducing personnel movement, achieving high efficiency and automation.
2019
Implement Toyota AGV Key Cart to manufacturing industry
Use Key cart to transport material on production line, to create smart factory.
2020
Implement Laser guided vehicle to Biomedical Industry
Install the highest (16.8m) very narrow aisle (VNA) system in Taiwan, moving to a new era of high-bay warehouse with high storage capacity.